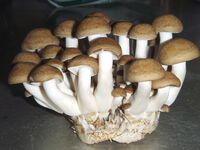 Hypsizygus tessulatus falls under the umbrella concept of the Japanese "Shimeji" mushrooms. Firm textured, this mushroom is considered one of the most "gourmet" of the Oyster-like mushrooms. Recently, this mushroom has been attributed to having anti-cancer properties. Increasingly better known, this obscure mushroom compares favorably to Pleurotus ostreatus and Pleurotus pulmonarius in North American, European and Japanese markets.
Community content is available under
CC-BY-SA
unless otherwise noted.