Hericium erinaceus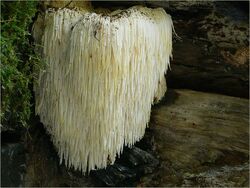 Substrates:
hardwoods
Synonyms

Lion's mane
Hydnum erinaceum
Hericium erinaceum
Bearded tooth
Hedgehog
Bearded hedgehog
Pom pom

Scientific Classification
Kindom:
Fungi
Phylum:
Basidiomycota
Class:
Agaricomycetes
Order:
Russulales
Family:
Hericiaceae
Genus:
Hericium
Species:
Erinaceus
Hericium erinaceus is one of the few mushrooms imparting the flavor of lobster when cooked. Producing a mane of cascading white spines, this mushroom can be grown on sterilized sawdust/bran or via the traditional log method first established for Lentinula edodes (Shiitake).
Hericium erinaceus fruits well on supplemented sawdust, particularly Douglas fir.
Community content is available under
CC-BY-SA
unless otherwise noted.